NBN and the asbestos scare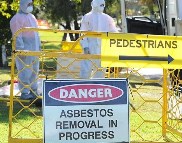 Graham Dent Article on Linkedin:
Remember, a long time ago, under a previous government - the big NBN asbestos scandal?
Unions are regularly accused of "misusing" alleged safety issues for industrial purposes. But what about when Government or Oppositions do it for political purposes?
The huge NBN asbestos scandal has ended with a whimper. Having done a lot of work in the telco sector over nearly 20 years on OHSE issues I would have been surprised if it had been otherwise.
Asbestos pits and manholes are well known hazards, the telco's have very well established procedures for dealing with both the OHS and environmental issues arising and in matters of which I have been aware have been extremely strict in following their protocols to protect their employees, contractors and the public.
NBN would have been well versed in these issues as it took over or shared the older asbestos pits and manholes with existing telco's - and many of its contractors are the very same who did and still do the work for the telco's.
The article referenced below does indicate WorkCover Victoria are prosecuting a subcontractor for allegedly failing to produce documents and information during its investigation of asbestos handling procedures.
As for the union claim that:
"Comcare was not the appropriate agency to investigate such breaches."
We said at the time we didn't think Comcare were the appropriate agency — they take care of so many industries, they don't have the resources to concentrate on a single industry like that.
It's now up to the federal government to intervene."
Comment:
The same criticism applied to Comcare here would apply to EVERY OHS/WHS regulator;
Comcare has dealt with asbestos pits and manholes for decades with its jurisdiction over Telstra, then Optus. Offhand I cannot recall whether some of the other Telco's moved into the Commonwealth regime.
So if not Comcare - who else in the Federal Government is going to take it over?
I do remember one big asbestos scare to the pubic arising from asbestos associated with pits and manholes. A bag of waste clearly labelled Danger Asbestos was left on a nature strip. It caused widespread concern - when investigated the contractor had acted inappropriately, but not in breach of the law or dangerously.
The contractor had used the asbestos waste bag while cleaning up some uncontaminated sand and soil.
Sometimes things are not as they seem and I would have no doubt that if there were serious issues then Comcare would have identified them.
See the article here:
Contractors cleared over NBN asbestos
Jared Owens - The Australian - June 23, 2014
NATIONAL Broadband Network contractors accused of mishandling asbestos from Telstra's pits have been cleared of breaching federal safety laws, infuriating unionists and residents exposed to the deadly fibres.
Many NBN worksites ground to a halt last year after the hazardous material was reportedly dumped in suburban areas, prompting fears for workers and forcing the evacuation of homes.
NBN asbestos whistleblower gets payout in Fair Work Commission case
James Dowling - Herald Sun - November 6, 2013
A WORKER who lifted the lid on the NBN asbestos scandal in Victoria has received a payout from his former bosses.
Darren Hayes launched a constructive dismissal claim against NBN contractor Visionstream after he claims the company sidelined him for raising safety concerns about its handling of the potentially harmful material.
Mr Hayes also claimed Visionstream had provided the workers with faulty or defective equipment to its Mt Clear site near Ballarat.
In his claim, Mr Hayes, the site's union representative, said he was forced out of the company after raising the concerns with the Communication Workers Union.
The federal workplace watchdog, Comcare, issued an improvement notice at Visionstream's Mt Clear site in June after photos emerged of asbestos bags being left unattended near a primary school.
The bags were pulled out of Telstra's pipe network during preparation work for the NBN rollout.
Today, Visionstream and Mr Hayes reached a confidential settlement after a private three-hour mediation at the Fair Work Commission.
Outside the building, Mr Hayes told the Herald Sun he was relieved his dispute was settled but declined to comment further.
Communication Workers Union organiser Val Butler claimed Visionstream management had marginalised and abused Mr Hayes after he had "blown the whistle".
"It has been a really difficult and emotionally draining few months for him,'' Ms Butler said before the mediation.
"He was only doing what he felt was his duty as the union representative and raising safety concerns with management and the union."
Visionstream spokeswoman Louisa Graham said it would be "inappropriate" to comment on matters regarding an individual employee.
"Visionstream followed proper process in regards to employee relations,'' Ms Graham said.
Telstra, who owns the pit and pipe network needed for the NBN, shut down remediation work for two months after a nationwide spate of asbestos handling scares.
The Telco introduced stringent new rules and further training for contractors following the asbestos scare.