Engine Failure Analysis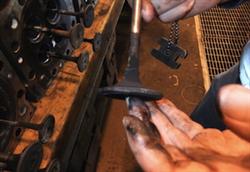 MPEs Central Queensland personnel were requested to carry out an independent assessment in conjunction with the OEM on a client's engine to assist with determining the cause of the excessive oil consumption at relatively low engine hours.
The assessment involved physical inspection of the engine components during disassembly, measuring and checking parts for wear patterns and causes of wear, checking the engine configuration and reviewing the client's maintenance practices. Data from the vehicles on board monitoring systems was reviewed along with the results from the client's oil samples and the Root Cause Analysis process was used to determine the most likely causes of the oil consumption problem.
The report was presented to the client and made recommendations to reduce engine service intervals. MPE continue to liaise with the client and monitor the performance of the fleet.